The Top Steakhouses in Sonoma Valley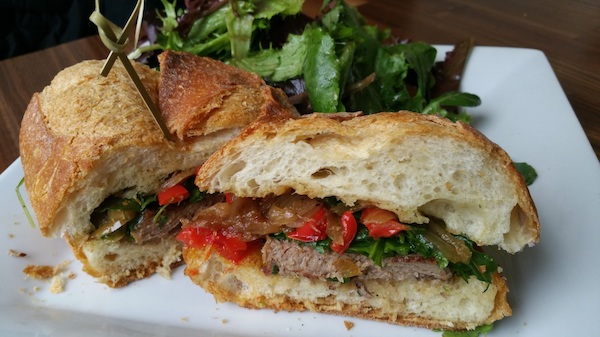 Sonoma group wine tours can't do better in the glass or on the plate than at the wine estates and restaurants in our gorgeous Sonoma Valley. You'll find no pretension here—just simple elegance, relying on the flavors to speak for themselves.
In Sonoma, ingredients are king – our local, world-class cuisine relies on harvesting the freshest produce, employing the best of both classic and innovative cooking techniques, and most importantly, selecting only the finest cuts of meat. Below, you'll find our the Sonoma Valley Wine Trolley's favorite steakhouses, Sonoma Valley style: with wine-country hospitality and no fuss.
165 West Napa St
Sonoma, CA 95476
(707) 938-7542
The Sonoma Grille & Bar offers great options for steak-lovers, and also for anyone who wants to taste a little of everything the Sonoma Valley has to offer. The restaurant has its own micro-brewery, and a beer garden for a more laid-back ambiance, as well as a dinner menu that includes high-end classics like the Filet Mignon. The dish is served with staples like garlic mashed potatoes and grilled asparagus ($37), but members of your Sonoma group wine tour might want to sample some of the offerings from the nearby coast as well.  Monterey Bay Calamari ($14) is available, as are raw bar offerings with oysters from nearby Tomales Bay ($2.95 each). Seafood lovers who can't choose can always opt for a Surf & Turf, with both an Angus filet and half a Maine lobster ($46). If you can get there during Happy Hour, the house-brewed Pale Ale is only three dollars a pint, and you'll find great deals on the restaurant's cheeseburger ($11), or half-price oysters! With a classic dessert selection and a kid's menu, the Sonoma Grille & Bar is a great choice for families, too! Reserve your table here.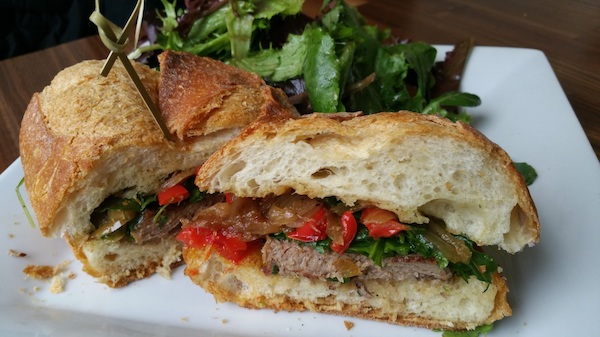 MacArthur Place Hotel & Spa
29 E MacArthur St
Sonoma, CA 95476
(707) 938-2929
The accolades for Saddles Steakhouse are a little overwhelming: it has been named "Best Beef Restaurant in California" by the California Beef Council, "Best Steak" in the Sonoma Index-Tribune Readers Poll, is a 2018 Diners' Choice Award-winner from OpenTable, and maybe most importantly to Sonoma group wine tours, has won The Wine Spectator's "Best of Award of Excellence" for its wine list! The restaurant is open for breakfast, lunch, and dinner every day, and its elegant atmosphere is part of the MacArthur Place Hotel, blocks from the Sonoma Plaza. The dinner menu features their award-winning offerings: the "Speciality Cuts" include seven options, with a long list of mouth-watering accompaniments like the Cabernet demi glace and Béarnaise sauce. Desserts like "Old Fashioned Chocolate Cake" and seasonal fruit crisp await those who finish their wild mushrooms and creamed spinach, but grownups might opt for the lauded cocktail menu or award-winning wine list for additional treats! Reserve your table here.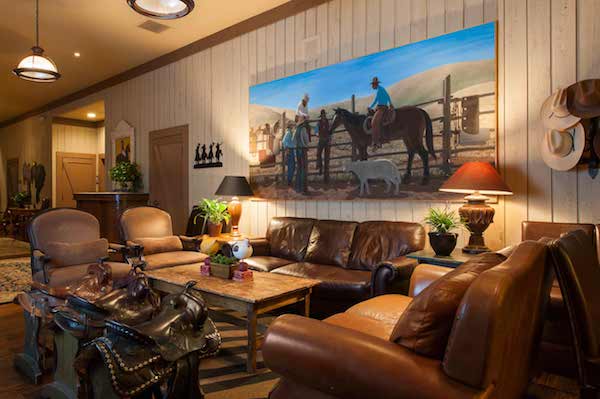 110 W Spain St
Sonoma, CA 95476
​(707) 938-3634
Described as "country food with a French passion," the restaurant is locally famous for its classic cuisine with a wine-country twist. Here, Steak Frites ($26) include a 6-oz prime flat iron with Meyer lemon and herb butter. The fries are doled out generously, and cut in a matchstick-style, but trust us—you'll be able to eat them all! If you'd like something a little more relaxed, the Sonoma Mountain Burger ($16) is delicious, and you can dress it up with add-ons, or save room for the Cheese & Port, Lavender Crème Brulee, or best of all, fresh ice cream served in a cookie! There is also an extensive cheese menu, not to mention a stellar wine list featuring Rhone wines (perfect for pairing with steak!) and popular cocktails made from local ingredients and house-infused liquors. Some parts of the meal may be available to take with you when you go. Grab a table here!
Everyone at the Sonoma Valley Wine Trolley loves to share our favorite spots in the Sonoma Valley for quick bites and sumptuous meals! We hope you and your Sonoma group wine tour will try these excellent steakhouses for yourself. Reserve online here – or call us to reserve now: (707) 938-2600